Paul Robinson
Workshop Leader
San Mateo High School (Retired)

Paul taught high school physics from 1974 to 2011. He is a long-time member of and contributor to NCNAAPT having served as Program Chair, Historian, and Section Representative for many years. He is the author of the Conceptual Physics lab manuals and the recipient of the Presidential Award for Excellence in Mathematics and Science Teaching in 1987.

Dan Burns
Workshop Leader
Los Gatos High School

Dan has been teaching high school physics since 1992. He has been a member, officer, and contributor with NCNAAPT. He works with the SETI Institute, USGS, AAPT, SJSU, and serves as the Faculty Scholar at the Lawrence Livermore National Laboratory.

Stephanie Finander
Outreach Coordinator
Woodside High School

Stephanie has taught high school physics since 1990. She is a long-time member of and contributor to NCNAAPT. She is a principal founder and organizer of the PTSOS New Teacher Workshop, and moderates the PTSOS discussion group.

PTSOS is made possible by a
grant from
The Karl L. Brown Memorial Scholarship Fund.
www.karlbrown.org/

Join the PTSOS Group

Get the latest announcements and updates on PTSOS! For more information email Stephanie Finander: sfinander@sbcglobal.net.

The next AAPT meeting will be in College Park, Maryland, July 25-29, 2015.

PTSOS is brought to you by The Northern California and Nevada Section of The American Association of Physics Teachers. The next NCNAAPT meeting will be April 24-25 at PASCO Scientific in Roseville, CA. (REGISTER HERE)

The New Physics Teacher Workshops are a series of free, day-long, professional development workshops for teachers new to teaching physics in the Southern California area.

Photos of Past Workshops
PTSOS Workshop 1/31/09
PTSOS Workshop 1/22/11


Workshops have concluded for the current school year. Workshop dates for 2015-16 will be posted here when finalized. See you then.
PTSOS Workshops 1, 2, 3 & 4 CEU Forms
Please send a request for these forms to Paul Robinson at pablo@laserpablo.com
See participants at PTSOS click their balls (QT movie)
...to demonstrate how mechanical energy is converted into heat.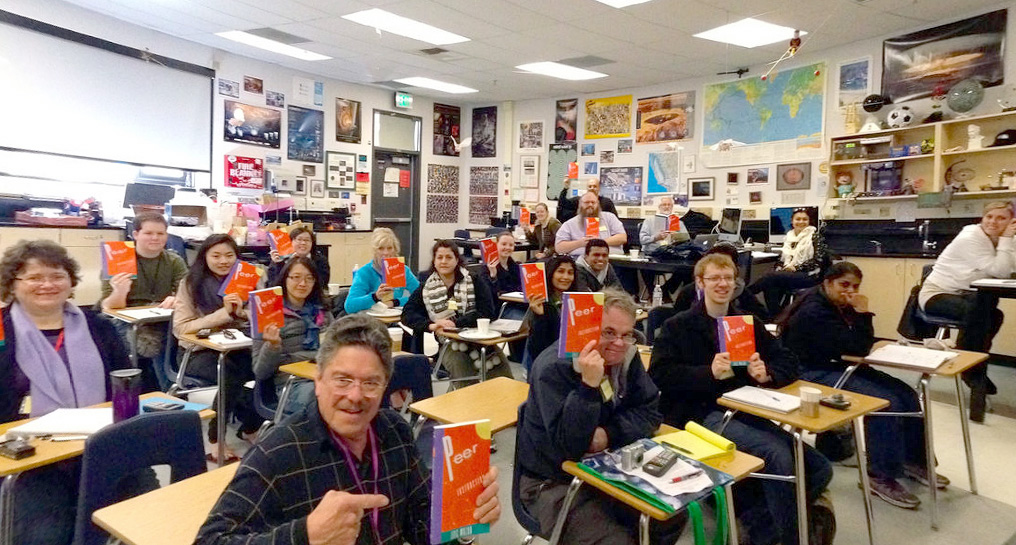 PTSOS participants hold up their Peer Instruction books, one of the many goodies they received.
(Click on the picture to see a TourWrist pano.)

Workshop 1

Workshop 2

Workshop 3

Workshop 4

August 23, 2014

September 27, 2014

January 10, 2015

March 7, 2015

Mechanics-1

Mechanics-2

Waves, Sound,
and Heat

Electricity,
Magnetism,
and Light

Overcoming
Inertia

The Gravity of
the Matter

Give Physics
a Whirl

Come See
the Light

Files & Resources

Files & Resources

Files & Resources

Files & Resources

All workshops will be held at Los Gatos High School, Los Gatos, CA (map)
To signup for a workshop, contact Stephanie Finander at sfinander@sbcglobal.net
See our BROCHURE

~ Physics Teacher SOS ~
Where Northern California's new and newly assigned physics teachers
are mentored by successful, experienced physics teachers...FOR FREE!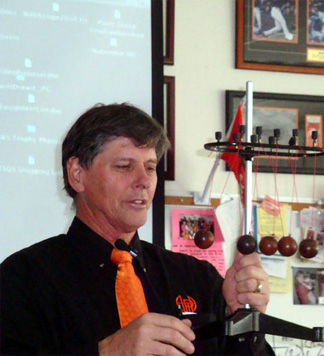 Fifty Percent of New Teachers Leave Teaching Within Five Years...



The call to recruit new teachers is heard across the nation. Efforts to retain new teachers are sporadic or non-existent. It's tough enough being a new teacher. Being a new physics teacher involves a special set of challenges.



• You have very little laboratory apparatus
• Some of what you do have is a complete mystery
• You're confused about content standards and statewide assessments
• Your physics enrollment is low
• Worst of all, there's no one you can ask for physics teaching guidance
That's Where Physics Teacher SOS Comes In!



Physics Teacher SOS (PTSOS) offers workshops, mentors, and online support for new and newly assigned physics teachers in Northern California. There is no cost to individual teachers or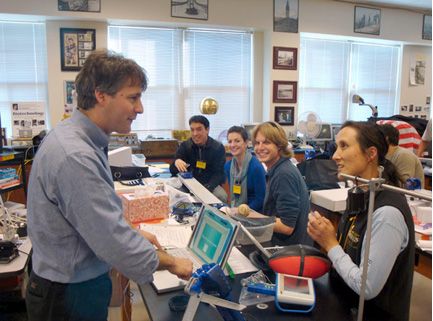 their schools for these services. Any teacher newly assigned to teach physics within the last five years is encouraged to participate.
PTSOS Workshops



Workshop leaders guide new teachers through a variety of activities and discussion topics, including:



• effective demonstrations (and how to demonstrate them)
• how to deal with paperwork
• minimizing lecture
• lab group management
• funding and how to be prepared for it
• how to increase physics enrollment
• content standards and statewide assessments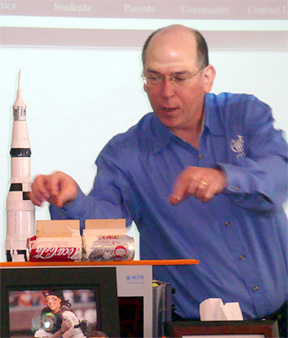 • managing apparatus
• integrating technology into curriculum
• effective presentation (PowerPoint) techniques
• topics brought up by the new teachers in attendance



***Attendees are given a variety of support materials at the workshops (lots of free goodies!).***
PTSOS Mentors



New teachers are paired with experienced, local physics teacher mentors. The mentors are there to provide one-on-one guidance where needed and to answer questions that come up throughout the school year.
PTSOS Online Community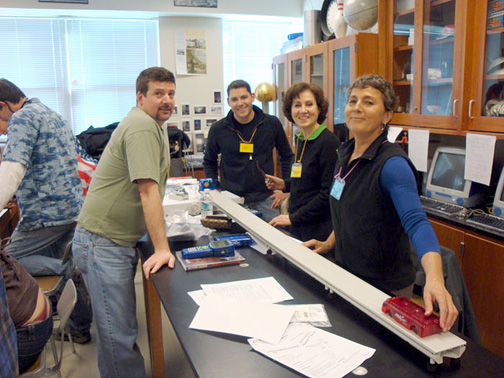 Physics Teacher SOS maintains an online discussion group. Workshop leaders and mentors monitor the messages and add to the ongoing discussion of topics as they arise. To join the group, go to our PTSOS Yahoo Groups signup page or email our Outreach Coordinator, Stephanie Finander, at sfinander@sbcglobal.net
PTSOS Workshop Signups



To signup for a workshop or for more information, contact our Outreach Coordinator, Stephanie Finander, at sfinander@sbcglobal.net. Space is limited so signup early to reserve your spot!